Tana Dineen is the author of: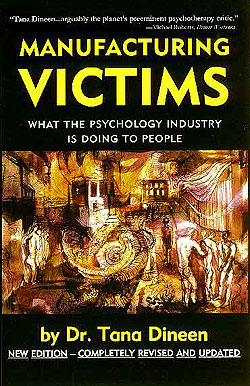 Manufacturing Victims:
What the Psychology Industry
is Doing to People
First published in 1996, a second revised edition followed in 1998, a Commonwealth edition was released in the U.K. and Commonwealth in 1999 and a completely revised and updated 3rd edition of Manufacturing Victims was released mid-2001.
Information about The Book:
Theme of Manufacturing Victims
Content Excerpts and Table of Contents
Comments from others in psychology and related fields
Media Reactions What has been said and written in the press
---------and through the media
July 2001 Review in Books In Canada


Publication Information:
Robert Davies Multimedia Publishing, Montreal-Toronto-Paris, ISBN 1-55207-012-3 (3rd Edition), trade paperback, 336 pages
Constable-Robinson, London, 0 094 79790 0 R8 320 pages 50 b/w tables illustrations throughout £14.99 paper original September 1999. With Introduction by David Smail
---
Dr. Dineen's speeches included the following, available on this site:
"Psychological Illusions: Professionalism and the Abuse of Power" - Presented at the Symposium: (Ab)Using Power: The Canadian Experience. Vancouver, B.C. May 8, 1998
Custody Evaluations - "Psychologists and Section 15 (Custody Evaluation) Reports: Illusions of Expertise, Ethics and Objectivity." Invited address to the Vancouver Family Law Sections - Canadian Bar Association, May 6, 1998
Reflections of a Dissident Psychologist - False Memory Syndrome Found. Newsletter - Sept. '98
"Sacred Cows and Straw Men" - A response to "The private practice of subversion: Psychology as tikkun olam." by Laura Brown) American Psychologist, April, 1998
Presentation - Brief to the Joint Parliamentary Committee on Custody and Access, Vancouver, April 27th, 1998
"Are We Manufacturing Victims" - Sexual Harassment Course of the B.C. Continuing Legal Education Society, February 1998
Dangerous Dreaming - Published in The National Psychologist, November/December, 1999, p.24
Psychologists and Family Law: What if the clothes have no emperor? - Presentation at the 36th Annual Conference of the Association of Family and Conciliation Courts, June 3, 1999, Vancouver, B.C.
A Call for Skepticism - Presentation at the Association of Family and Conciliation Courts 36th Annual Conference - June 2-5, 1999, Vancouver, B.C.
---
In addition, Dr. Dineen has authored a number of book chapters. Several of Dr. Dineen's chapters are available here. (in Acrobat Reader)
Psychocracy: The Psychological Sphere of Influence (2004)
Social influence is an aspect of all social interactions and as such, is inherently neither good nor bad.
We are, however, at a place in history where that influence is predominantly psychological.
In pointing to a psychocratic system of governance and in critiquing it, I am not proposing some
new or better alternative or suggesting that we grasp nostalgically back at some prior form of governance.
Nor am I making doomsday predictions of social decay and collapse. However, I am suggesting that
we need to develop a keen awareness of the social influence of psychology and to watch closely how
the shades of influence are shifting so as to more thoughtfully consider the implications for ourselves
and for our nations as we ponder, as every generation has, civilization's discontents.
[LINK]
---
The Psychotherapist and the Quest for Power:
How Boundaries have Become an Obsession (2002)
When I faced this dilemma myself almost a decade ago, I handled it in my own way. My choice was consistent with who I am and with the skepticism I have harbored since the very beginning of my career. I would never suggest to another psychologists that he or she should follow my example. While a few may choose to step outside of the boundaries and some may choose to ignore them, most of us will choose to obey the rules. But we need not do that obediently. We can question authority, both our own and that imposed by others. And, perhaps, if enough of us do, psychology will be, as my earliest teacher insisted it should be, "more than common sense."
[LINK]
---
Psychological Illusions: Professionalism and the Abuse of Power (1999)
A chapter in "(Ab)Using Power: The Canadian Experience."
Power has long been a focus of attention for psychologists. In contrast to Freud?s preoccupation with
sexuality, power formed the dominant theme for Adler?s approach to psychoanalysis. Subsequently,
power has been studied in relation to interpersonal aggression, social dominance and family dynamics.
In recent times, as Freud?s theories have once again taken hold, a bizarre but titillating fusion of the concepts of power and sexuality has taken place within our society. As a consequence, the term ?abuse of power? has lost its connotative breadth; the accepted meaning has been diminished so that the term now implies little more than a form of sexual abuse.
[LINK]
---
Psychotherapy: Snake Oil Of The 90's (1998)
...why is psychotherapy given so much credit? To answer this I think that we need to return to
our image of psychotherapy as psychic snake oil. Like its forerunner, psychotherapy can make people
feel satisfied, if sometimes only briefly, because they have been listened to and made to feel important.
And because, like salesmen of past concoctions, psychologists have a good sales spiel.
[LINK]